How to withdraw money on RoboForex – Withdrawal Tutorial
RoboForex Group is one of the leading platforms today recognized by the experts of the Financial Market for online trading. Since 2009, RoboForex has offered the fastest stocks, soft commodities, indices, CFD, Forex, ETFs, etc.
Along with the developed projects, RoboForex is also known for the ContestFX. This new kind of project conducts contests on several demo accounts. These are held weekly as well as monthly, the winners of the contest get their prizes deposited in their real trading accounts.
As a global trading platform, it provides a wide range of cashback offers, promotional & bonus programs. It also provides facilities related to negative balance protection. This multi-asset broker platform has been recognized for 13 years for its advanced trading proposals and trading sizes.
Investors are offered advanced trading software and platforms, allowing them to choose between the proprietary RTrader, cTrader, MetaTrader, etc. The head office of this CFD and Forex trading platform is situated in Cyprus.
Here, clients get a chance to decide from five different accounts, i.e., Pro, ProCent, Prime, R StocksTrader, and ECN. The three accounts are ECN, Prime, and R StocksTrader, are all commission-based, while Pro and ProCent are both commission-free accounts.
Brokers also provide extensive educational materials and market research to the clients based on their proficiency level as traders.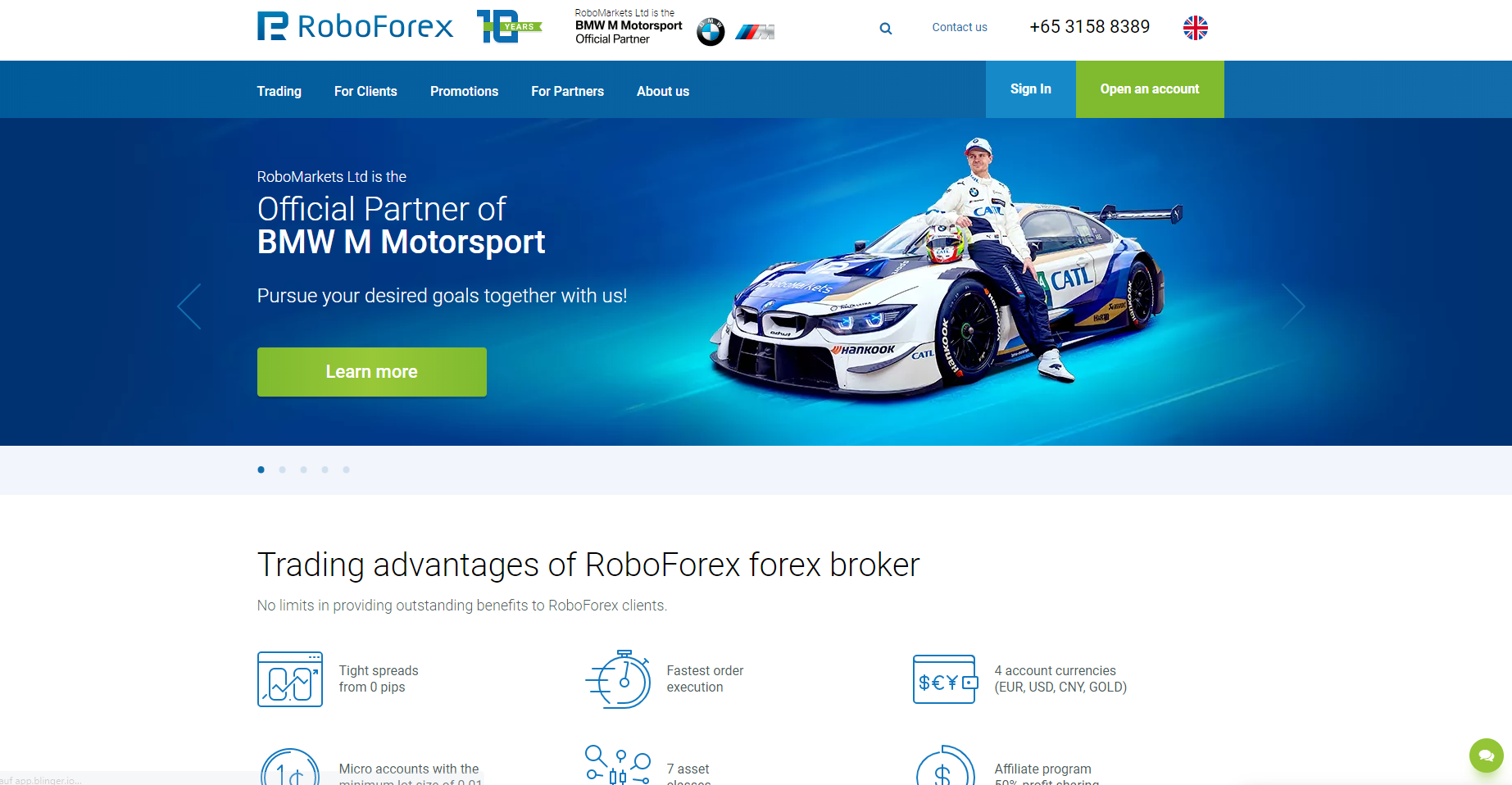 Warning note:
RoboForex Ltd and its affiliates do not target EU/EEA/UK clients. RoboForex Ltd and its affiliates don't work on the territory of the USA, Canada, Japan, Australia, Iran, Russia, and other restricted countries. Please be aware that you are able to receive investment services from a third-country firm at your own exclusive initiative only, taking all the risks involved.
Features of RoboForex
RoboForex offers multiple language support to its clients (13 languages).
Online trading at RoboForex can be started at $10.
Clients are offered an advanced Financial Chart comparison tool.
This platform can be operated via web browsers and on iOS (iPads, iPhones) devices, Apple Mac, etc.
It provides products like currencies, indices, stocks, commodities, ETFs, CFDs, etc.
The deposit options provided by RoboForex are credit card, Neteller, Wire transfer, Skrill, etc.
How to withdraw money?
There are easy withdrawal options available with RoboForex, especially for traders who often face many problems when participating in the withdrawal process. The clients are even given an option to withdraw money in small amounts.
The withdrawal fees will depend on your chosen method of withdrawing funds. To withdraw funds –
There is a Members Area; select the "Withdraw Funds" option.
From the payment list available, select the withdrawal option you want.
Select the "Go-To" option.
As per your chosen payment option, the platform may ask for additional information to successfully create your withdrawal application.
All roboForex withdrawal applications need at least two business days to be processed. The withdrawal fee varies in most cases depending on your chosen payment method.
Withdrawing funds from RoboForex for free
Like all trading platforms, RoboForex also charged a certain fee from its clients when funds were withdrawn. But now, the RoboForex customers can enjoy the facility of withdrawing funds at no cost.
RoboForex has already set a certain criterion for people who want to avail this facility. The criteria suggest that to withdraw money without paying any fee, you should withdraw it on either the first Tuesday or the third Tuesday of every month.
You will be charged for every transaction you take apart from the transactions on these 2 days. The rule is very simple and can be followed by all. Any client of RoboForex can take advantage of this program and withdraw their money for free on two days of the month.
Also, RoboForex has all rights to deny any client this particular service without giving any reason for it.
RoboForex auto withdrawal
Another option for roboForex clients when withdrawing funds is to do it automatically. The Automatic Withdrawal System is a service that, if used, automates the processing related to the withdrawal request; it will also reduce the funds' transfer time up to one minute.
This request for auto-withdrawal can be made any time of the day, i.e., apart from working hours and working days. You can make this request 24×7, on holidays, weekends too. This service has gained much popularity in recent years; around 85% of the RoboForex clients opt for the auto-withdrawal service to get their funds faster.
The two steps of the auto-withdrawal system are –
Processing of the request
Execution of the withdrawal request
The speed of withdrawing funds accelerates once the request is made, the process can now be completed in less than one minute.
Availability of the auto-withdrawal system is for all kinds of real accounts, and the deposit can be made from Skrill, WebMoney, QIWI Wallet, Yandex, Money, Neteller, FasaPay, and the Firstchoice Pay MasterCard. Your request can be processed immediately once you make it via the Members Area option in your account.
RoboForex withdrawal methods
There are several options available for the clients of RoboForex regarding the method via which they want to withdraw their money from their RoboForex account.
| | | | | |
| --- | --- | --- | --- | --- |
| Withdrawal Method | Currency | Withdraw Fee | Withdraw Processing Time | Withdrawal Limitations |
| Bank Transfer (SEPA)  | EUR | 1.5% | Up to 3 Business Days | 500 – 50,000 EUR |
| Local Bank Transfer | MYR, IDR, VND, THB | Up to 4% | One Bank Day | 70 – 49,000 MYR, 300,000 – 90,000,000 IDR, 650 – 490,000 THB, 3,00,000 – 280,000,000 VND |
| Bradesco | USD | – | – | – |
| Skrill | USD, EUR | 1% | From One Minute to One Day | 0.1- 100,000 USD |
| Neteller | USD, EUR, MYR, IDR, PLN, AED | 1.9% | From One Minute to One Day | 5 – 10,000 USD |
| Perfect Money | USD, EUR | 0.5% | From One Minute to One Day | From 0.1 USD |
| AdvCash | EUR, USD, UAH, BRL, GBP, KZT | 1% | From One Minute to One Day | 0.1 – 10,000 USD |
| Fasapay | USD, IDR | 0.5% | From One Minute to One Day | 0.1 – 20,000 USD |
| AstroPay | AED, BRL, CLP, CNY, AUD, EUR, INR, JPY, NGN, MXN, MYR, GBP, IDR, VND, USD, THB | 0.5% | From One Minute to One Day | 0.1 – 10,000 USD |
| VISA / MasterCard / JCB | USD, EUR, CZK, PLN, CHF, GBP | 2.6% + 1.3 USD / 1 EUR | One to Ten Bank Days | Up to 10,000 USD |
Minimum withdrawal amount
RoboForex allows its clients to withdraw funds even at the minimum value, unlike other trading platforms.
| | |
| --- | --- |
| Withdrawal Method | Withdrawal Amount |
| Neteller | $5 |
| Every other withdrawal Method (Skrill, FasaPay, AstroPay, AdvCash, etc.)  | $1 |
Payment methods
You can easily deposit money to your RoboForex account once your registration is complete on the official website. The steps to deposit funds in the RoboForex account are:
First, you need to Log in to the client portal
Select the Deposit Funds option
Select your preferred method to deposit funds
Select the amount you want to deposit
To confirm the details of the deposit, you will be redirected to the payment processor page
Click the Deposit Funds option
The processing of the transactions takes time-based on your chosen payment method, the time of the day, etc. You may also be asked to specify additional information about you based on your selected payment method.
The minimum amount that a user can deposit is $10 for all the live accounts of first grade. It also varies depending on the type of account you hold.
For clients who have the ProCent, ECN-Pro, or the Pro-Standard account, the minimum deposit amount is 10 EUR / 10 USD.
People with the R Trader account need to pay a minimum deposit of 100 EUR / 100 USD
The Prime account holders have the minimum deposit amount set as 5,000 USD
RoboForex covers every expense related to the commission, so the clients do not need to pay the commission for deposits in the trading accounts.
More than 20 payment methods allow users to transfer money with convenience. Some popular payment methods are –
| | | | | |
| --- | --- | --- | --- | --- |
| Payment Method | Currency | Deposit Fee | Deposit Processing Time | Deposit Limitations |
| Bank Transfer (SEPA)  | EUR | 0% | Up To 3 Business Days | 500 – 100,000 EUR |
| Local Bank Transfer | MYR, IDR, VND, THB | 0% | Instant Deposit | 70 – 5000 MYR,310,000 – 100,000,000 IDR, 600 – 490,000 THB, 310,000 – 280,000,000 VND |
| Bradesco | USD | 0% | From 1 to 3 Bank Days | 10 – 10,000 USD |
| Skrill | USD, EUR | 0% | Instant Deposit | 10 – 25,000 USD |
| Neteller | USD, EUR, MYR, IDR, PLN, AED | 0% | Instant Deposit | Up To 50,000 USD |
| Perfect Money | USD, EUR | 0% | Instant Deposit | 5 – 25,000 USD |
| AdvCash | EUR, USD, UAH, BRL, GBP, KZT | 0% | Instant Deposit | 10 – 10,000 USD |
| Fasapay | USD, IDR | 0% | Instant Deposit | 10 – 20,000 USD |
| AstroPay | AED, BRL, CLP, CNY, AUD, EUR, INR, JPY, NGN, MXN, MYR, GBP, IDR, VND, USD, THB | 0% | Instant Deposit | 10 – 10,000 USD |
| VISA / MasterCard / JCB | USD, EUR, CZK, PLN, CHF, GBP | 0% | Instant Deposit | From 10 USD |
Fees
As a broker, RoboForex provides a trading platform, research tools, mobile trading options, and educational resources to the users too. Such services are provided at a certain fee. RoboForex also takes its fee from the spread, i.e., the difference between a particular instrument's buying & selling price.
The trading platforms charge several fees like service fees, downtime fees, etc. RoboForex is known to charge a bit higher when compared to other platforms. Its fee structure varies depending on your account type.
Trading fees
The trading fee will be charged from a client every time they place a trade. This includes the currency conversion fee, rollover & overnight fee, commissions, spreads, etc.
If you are a Cent, Pro-Cent, or a Pro-Standard account holder, you will have spreads from 1.3 pips; the ECN and Prime account holders have spread from 0 pip. The people with an R Trader account have spread from $0.01.
RoboForex charges no percentage as Deposit Fees, and the deduction of withdrawal fees is based on the payment method selected. The spreads of RoboForex are competitive compared to the spreads of other trading platforms.
Fees as per account –
Pro-Standard Account: The variable spreads are from 1.3 pips with a minimum deposit of $10. The leverage in this account is up to 1:1000, and there are zero commissions.
Prime Account: This account requires a minimum deposit of $5000. The variable spreads are from 0.0 pips with leverage of 1:100. The commission in this account is $15 per $1 Million of the trading volume.
ECN-Pro Account: In this account, the variable spreads are from 0.0 pip, with the minimum deposit being $10. This commission is $20, charged per $1 Million of the trading volume. In this, the leverage is 1:300.
R Trader Account: This account has variable spreads from 0.01 pips US Dollars with leverage of up to 1:200. Here the minimum deposit is required to be $100.
Pro-Cent Account: The minimum deposit required in the pro-cent account is $10. Here the variable spreads from 1.3 pips with leverage being 1:1000. It charges zero commission fees and the only difference between this account and the standard account is that there is no use of dollars; it uses cents.
Other fees
Certain financial instruments need to be traded, keeping in mind the time zones of any additional charges. The traders must be aware of the other fees, such as Overnight Fees, also known as Rollover Fees and Swap Fees. This is charged for open positions that have already crossed 24 hours.
Pros and cons of RoboForex
Pros
A wide range of payment methods is provided for withdrawing and depositing funds.
Quick account registration
Has a variety of communication channels with around 13 languages.
The minimum deposit in RoboForex is $1.
Its assets are available 24/7 to the users for trading.
It has the feature of fast order execution.
It provides its users with several bonus and promotion options.
Cons
The majority of the RoboForex accounts have very limited choices in trading instruments.
RoboForex is not a good option in terms of protection and security as it is not FCA regulated.
It does not offer its users the option of cryptocurrency trading.
Its payment methods do not include PayPal.
There is no option for Bitcoin trading in RoboForex.
It charges inactivity fees from its users.
Conclusion
RoboForex is a well-regulated broker regulated by the IFSC of Belize. Being partners with BMW M Motorsport, it provides all its clients a platform to trade on 12000+ CFD instruments.
Its trading costs are competitive, and all users can benefit via rebates if they can trade in good volume. It also has the facility to provide a demo account and Islamic Account. The reviews also suggest that the users of this trading platform very much appreciate these features.
The clients of RoboForex do not need to pay a fee when they deposit funds in their trading account, and the withdrawal fee depends on their chosen payment method. Along with the availability of withdrawing minimum funds, the users are also provided with several bonuses and promotions such as classic bonus, profit share bonus, welcome bonus, etc.
The other main benefits and features of RoboForex include market research & education material provided by the broker, live chat option, 24/7 support, multilingual, available via email, calls, Facebook Messenger, etc.
FAQ – The most asked questions about Roboforex Withdraw:
How long will my withdrawal be pending on RoboForex? 
RoboForex has the policy set on providing the funds that a client wants to withdraw within 2-3 business days. The process starts between the working hours, i.e., between 9 A.M. and 6 P.M. (EET). 
If the process takes longer than this, you can contact live support to know if there is an issue with the payment method or process. 
On the official RoboForex page, you will also find certain payment methods that take even less processing of the withdrawal request. 
China UnionPay takes up to 2 days to process the withdrawal request. 
ThunderX (QR-code) requires up to 1 day. 
Shop2Pay (QR-code) also takes up to 1 day. 
Local Bank Transfer takes up to 1 day. 
Electronic payments such as AstroPay, Skrill, Neteller, Perfect Money, AdvCash, and NganLuong Wallet also take up to 1 day. 
Bank Cards such as VISA / MasterCard / JCB may even take up to 10 days to process the withdrawal request. 
How long does it take to withdraw money from RoboForex? 
Depending on your chosen withdrawal method, your request will be processed in 2-3 business days. Electronic transfers are currently preferred as compared to the other withdrawal methods. Electronic transfers take up to 1 minute to 1 day to process your withdrawal request. 
The bank cards are very time-consuming as they may take 1 day to even 10 days. You can also choose the auto-withdrawal option, where you can have your request processed within one minute. Users find it quite convenient. 
What is the estimated timespan for withdrawal to be pending on Roboforex? 
Roboforex is particular about the set of policies that the customer has to follow if he wants to withdraw his funds within 2-3 business days. Generally, the entire process begins between the official working hours, specifically saying, i.e., 9 am to 6 pm. If the client is facing any issues or the process is being delayed more than the allotted time. He can definitely contact live support to confirm if there's any issue that might have arisen either with the process or with the payment method.
If you go through all the pages of the website, there are certain payment methods you'll come across that require lesser processing time to withdraw.
What is the tenure to withdraw money from Roboforex? 
Absolutely; depending on the withdrawal method that you have chosen, the withdrawal process takes an estimated time period of 2-3 business days. Amongst all the withdrawal methods, the electronic transfer is the most recommended one. On average, the withdrawal process through electronic transfer takes 1 minute to a day time to process.
On the contrary, bank cards are usually much time- consuming and can take 1 day to 10days time to process the withdrawal. The rest is entirely up to you as to which one you want to go for.
---
---
See more articles about forex trading here:
Last Updated on July 26, 2023 by Andre Witzel
https://www.trusted-broker-reviews.com/wp-content/uploads/Trusted-Broker-Reviews-logo.png
0
0
Andre Witzel
https://www.trusted-broker-reviews.com/wp-content/uploads/Trusted-Broker-Reviews-logo.png
Andre Witzel
2022-02-26 19:07:25
2023-07-26 12:24:55
How to withdraw money on RoboForex – Withdrawal Tutorial