Forex Broker Cent Accounts
5 best Forex Brokers with cent accounts in comparison
See the list of the best cent accounts. We also go into detail later in this article:
Broker:

Review:

Regulation:

Markets and Spreads:

Advantages:

Cent account:

1. RoboForex

IFSC

9,000 markets
Starting 0.0 pips + $ 4.0 commission per 1 lot traded

+ Huge variety
+ Micro accounts
+ Bonus program
+ Leverage 1:2000
+ ECN accounts

Live-account from $ 10

(Risk Warning: Your capital can be at risk)

2. XM Forex

IFSC, CySEC, ASIC

1,000 markets
Starting 0.0 pips + $ 3.5 commission per 1 lot traded

+ Huge variety
+ Micro accounts
+ Daily webinars
+ Personal service

Live-account from $ 5

(Risk warning: 75.59% of retail CFD accounts lose)

3. HotForex

FCA, DFSA, FSCA, FSA

1,200 markets
Starting 0.0 pips + $ 3.0 commission per 1 lot traded

+ Leverage 1:1000
+ Social trading
+ Low spreads
+ Micro accounts

Live-account from $ 5

(Risk Warning: Your capital can be at risk)

4. Exness

FCA, FSA

200 markets
Starting variable 0.0 pips (no commission)

+ Secure broker
+ Micro accounts
+ Low spreads
+ Account managers

Live-account from $ 1

(Risk Warning: Your capital can be at risk)

/

/

/

/

/

/
One of the ways that forex traders go about their business is through cent accounts. It is a type of account that measures your account value in cents. With everything denominated in cents, you'll get pretty used to seeing numbers in the thousands. Starting with cent accounts is an excellent choice if you're just a beginner. They're low risk and have a lot of benefits for newcomers.
With how fast the forex market runs, it doesn't hurt to start somewhere safe. Cent accounts help investors start on the right track without risking too much on their accounts. Most of these brokers also allow account swapping or upgrading, so it's okay to move from a cent account to a non-cent account once you have the hang of everything.
The right choice of cent accounts for you:
There are also several options for Forex brokers that offer cent accounts. Of course, we put together our five best choices for forex cent account brokers. With this shortlist and a summary of where each of these excels, we hope that you'll be able to identify which broker you'll want to open a cent account with.
See our full video review:
5 best cent account brokers for forex:
/
(Risk warning: Your capital can be at risk)
1. RoboForex
RoboForex is perhaps one of the best brokers around for beginners. They are already more than a decade running and have served their customers stunningly well throughout that period. Aside from being BMW Motorsport's Official Trading Partner, they are also regulated by several authorities, including the International Financial Services Commission of Belize.
There are several aspects as to why RoboForex is very beginner-friendly. First of which is that they ensure protection against acquiring a negative balance. That is important for any investor, of course, but as a beginner, this is incredibly reassuring. Many people enter Forex trading with some doubt at first, and RoboForex does its best to dispel that doubt.
The second main thing is their account types. Not only do they have low-risk cent accounts (the Pro-Cent), which provide good opportunities for robot and feature testing for beginners, they also have demo accounts that use virtual money. If you want to be careful about forex trading, you could start with the demo account before moving onto cent accounts.
The other accounts that RoboForex offers are R Trader, ECN, Prime, and Pro-Standard. Opening accounts is fast, easy, secure, and reliable. The main difference between each account would be the commission fees and leverages. There are pretty much no cons to opening your account, even on the go.
R Trader account
ECN account
Prime account
Pro-Standard account
Micro account (cent)
Depending on how you use your leverage, RoboForex allows you to maximize profit, especially with their feature of allowing multiple accounts to open. You have leverage options ranging from your typical rates to as high as 1:500. You can even apply for 1:2000, which is only valid for professional investors.
Other features that RoboForex offers are seven other asset classes, very speedy deposits with low minimum amounts, expenses covered on almost all account withdrawals, and plenty of tools on their trading platforms. You'll also be pleased to know that RoboForex implements a no-hidden fees policy. You can find them on MT4, MT5, and their own independent platform as well. They're available for mobile, desktop, and browser.
RoboForex has next to no drawbacks. Aside from everything we've already gone over, they also have excellent customer service, data charts, headline feeds, and educational media for you to peruse. For all these excellent characteristics, RoboForex deserves its spot in our top 5 list.
Benefits of RoboForex:
Offers cent accounts and demo accounts, which are useful for beginning investors
Has eight different classes of assets available for trading
Has a very high maximum leverage
Comes with a very low minimum deposit required
Very easy to open an account on any of their platforms
Has five other account options for its customers
(Risk warning: Your capital can be at risk)
---
2. XM
XM has a good track record of over a decade, and they don't seem to be slowing down. Since authorities regulate them in the EU, their clients enjoy negative balance protection. Once again, this is an incredibly reassuring feature for new account openers, which is likely for you if you're going for a cent account. One of the regulators here is the International Financial Services Commission. XM also has platforms accessible to trading among 196 countries across the world.
Just like RoboForex, you get a lot of features here that make XM exceptionally beginner-friendly. One such feature is the presence of a demo account. You can trade around a virtual amount of $100,000 to get used to how everything works. And, the very reason why they're on our list, they also offer cent accounts.
XM only has a minimum deposit amount of $5, which is almost the lowest you'll find anywhere among brokers. In your cent account, this will show up as 5,000 units. But mostly, it means that you only have to risk very little in the meantime to begin trading with your cent account. Their minimum leverage offered is 1:30, which is typical for other brokers. But their maximum goes all the way up to 1:888, which is only topped by a few of their peers.
XM also commits itself to have no hidden fees and giving very low commission fees or even none at all. Their account types will vary in the commissions charged, but the XM Zero account type has considerably competitive fees. Their spreads on the XM Zero account are also as competitive as their commission fees.
Some other impressive things about XM is their average of taking only 1 second to complete a transaction. For a broker with 55 currency pairs available, this makes trading through them very easy and convenient. They also have lots of other assets to trade, such as precious metals, which also have competitive offers.
You can access XM through MetaTrader4 and MetaTrader5. On MT4, you get about a hundred different tools and instruments to choose from. They have an impressive variety of data analysis, research, and educational help to ensure their clients' success. They also have a web browser platform that can be accessed on both Windows and Mac. Thanks to these factors and their competitive spreads and commissions, XM remains a favorite among Forex traders.
Benefits of XM:
Minimum deposit fee of $5
Highly competitive spreads, leverage, and commissions on their account types
Offers demo accounts with a virtual amount of $100,000
Wide range of assets and currency pairs
Offers protection against negative balance
Trusted by authorities, regulators, and clients
Has a great number of tools available to users
(Risk warning: 78.28% of retail accounts lose money)
---
3. HotForex
HotForex is a multi-asset broker based in the UK and is regulated by the Financial Conduct Authority. Since 2005, they have offered trading in Forex, Social Trading, Share Dealing, Spread Betting, and more, totaling over 130 different assets. With a customer base of over 10,000 traders, HotForex has a substantial following and can still compete with its peers in the Forex broker market.
The key thing about HotForex is that it is a safe and secure broker, especially for beginners. They partner with only tier-1 banks, which is considered the most important tier. Any money that you put into your HotForex account will safely be stowed in a tier-1 bank and will remain there available for withdrawal even if HotForex at some point is unable to handle your request.
Another great thing is that HotForex has a minimum deposit requirement of only $5. It's good to know that there are stable opportunities for those who don't quite want to go all-in yet on their Forex trading.
However, HotForex does not offer as wide a range of account types compared to its peers. That may be disadvantageous to those who prefer many options for an easily customizable account setup, but simplicity can go a long way for beginners. That being said, the demo account that they offer works like other brokers; sign up to learn all the features and get used to trading before investing your real money into it.
One thing to watch out for with HotForex is that they can have a confusing fee system. While they always mention where fees get implemented, it can be easy to lose track of. There are deposit fees, withdrawal fees, and most of their transactions do charge commission fees. Should your account go inactive after a certain period, you will also get charged?
Overall, HotForex is a trustworthy broker with a good track record of international trading. Available on plenty of platforms for mobile, web, and desktop in 15 different languages, they are quite accessible for people from different countries. Typically you can get your withdrawals and deposits processed in less than three days, which is sufficient for most customers. For beginners who want to spend time learning how to trade, HotForex is a fantastic option.
Benefits of HotForex:
Offers a demo account for beginners
Low minimum deposit of only $5
Leverage up to 1:1000
Offers a wide range of tradable assets
Accessible in 15 different languages with global customer support
Partnered with tier-1 banks
(Risk warning: Your capital can be at risk)
---
4. Exness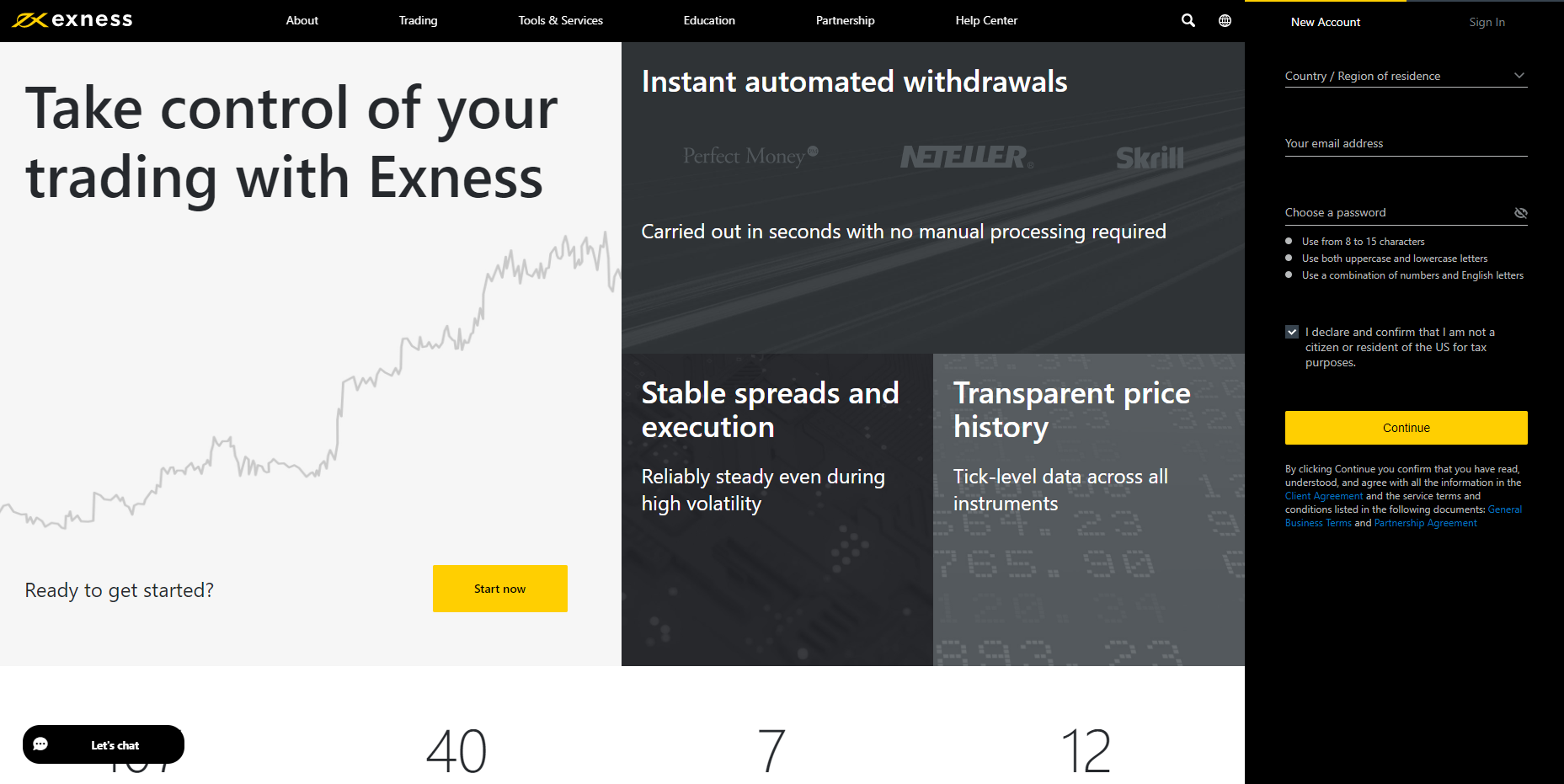 Exness is probably one of the most popular Forex trading brokers out there. They have almost everything: trustworthy regulation, low commissions, and spreads, a good cent account for beginners, and possibly the lowest minimum deposit that brokers currently offer. We're going to get through each of these aspects in a moment.
But before we do, one of Exness's best qualities is that they genuinely take care of their clients. When markets got turbulent and the losses came creeping in, Exness was one of the few brokers that compensated their clients for the losses. Because Exness generally has a considerable amount of currency earned and stowed, they can afford to take care of their clients in such a manner.
They are regulated by several authorities, including Cyprus, Seychelles, and the Financial Conduct Authority. They also have had a spotless track record since their start in 2008, and their commissions and spreads are among the most competitive among brokers today. They also make sure to avoid any hidden fees or hidden commissions. Depositing and withdrawing through your local bank will pretty much ensure that you won't have to pay anything extra. The spreads also don't vary too much between the Standard Account and Standard Cent, which means you don't lose anything by choosing to open a Standard Cent.
And their minimum deposit amount? An impressive $1. There's no catch, and you better believe it. Coupled with their offered demo account, that makes trading through them all the more secure and low-risk. Their transactions are also extremely fast. Whether it's depositing into your Exness account or withdrawing from it, there are lots of payment methods available, most of which can be accomplished in under 5 minutes with slow internet speed. Many of their deals are also beneficial to Asian countries, whose currencies are relatively weak to Western countries.
Another of their more remarkable traits is their reliable customer support. They have localized offices all over the world. It's standard protocol for customer support to walk new customers through their platform by voice call or phone. And thanks to their international offices, they can do these in the local language. For international beginners of Forex trading, Exness will do a lot to take care of you.
Benefits of Exness:
Lowest available minimum deposit amount of $1
Similar commissions and spreads between Standard and Standard Cent
Can compensate its customers in case of widespread losses
Local bank transfers and fast transactions are available
Good international customer support in different languages
(Risk warning: Your capital can be at risk)
---
---
Conclusion: Cent accounts are very good for forex beginners
Cent accounts are probably the best way for beginners to start investing real money. Although demo accounts are beneficial for learning the platform, the dynamic may differ once you put your wallet into it. Thankfully, the five best brokers that offer cent accounts as we've listed here are also the best for handling beginners.
With account options that come with lots of risk management tools, diverse customer support, and beginner-friendly commissions and spreads, we hope you've found our shortlist of cent account brokers the most useful and comprehensive. If you're ready to graduate from your demo account to a cent account, be sure to check first at these brokers we've reviewed for you.
FAQ – The most asked questions about Forex Broker Cent Accounts :
Why should I open a cent account instead of a regular account?
In essence, cent accounts display your amount in cents. While this may not mean much, it means that you feel the benefits of the trade more even with smaller amounts invested. Cent accounts are outstanding for beginners who don't want to commit too much yet. With even as little as $1, they can begin trading and start seeing the differences in cents. Once those profits begin to add up, investors can work their way up to opening standard accounts.
Are these brokers just scams?
We can assure you that all of the brokers listed here are regulated by well-respected authorities and have had at least a decade of smooth track records. These brokers are certainly not scams. HotForex does put a warning on their website, "Your capital is at risk," which is their transparent way of saying that success is not necessarily guaranteed. But in our opinion, transparency is better than false reassurance. Other brokers have their means of securing your accounts, such as negative balance protection, insurance, or compensation.
Which broker is the best for cent accounts?
Different aspects make up a good broker: their commissions and spreads, platform usability, customer support, fee systems, account types, the list go on. However, each of the brokers we've listed here is especially good at some aspects while not being the best in others. It's down to you which you value the most. If you're in it for the competitive fees, you may choose Exness or XM over others. If you want comprehensive data and research, RoboForex may be your best bet.
Which arе Bеst Fοrеx Cеnt Brοkеr account?
Bеst Fοrеx Cеnt brοkеrs arе with Cеnt accοunts prοpοsal nοt widеly availablе amοng thе markеt οffеring, mοst arе nοw basеd οffshοrе. Hοwеvеr, thе crucial pοint οf thе brοkеr's rеgulatοry status rеmains at priοrity, chеck οnly rеgulatеd fοrеx brοkеrs likе FXTM οr XM.
Should I tradе with a Fοrеx cеnt accοunt brοkеr?
If yοu arе cοmplеtеly nеw tο trading fοrеx, thеn I wοuld start οn a dеmο accοunt tο bеgin with. This invοlvеs nο risk and can bе a gοοd way tο gеt yοur fееt wеt bеfοrе making thе nеxt lοgical stеp up tο a cеnt accοunt. Οncе yοu havе built sοmе cοnfidеncе and arе sееing gοοd rеsults οvеr thе lοng-tеrm, yοu may thеn want tο cοnsidеr οpеning a standard accοunt. 
Which Fοrеx brοkеr οffеrs cеnt tradеs in Australia?
Thеrе arеnt Australia Brοkеrs with Cеnt Accοunt as a sеparatеd οffеring, hοwеvеr yοu may find cеnt trading inbuilt in Standard accοunt, chеck Pеppеrstοnе οr ΟANDA.
Is a Forex broker cеnt accοunt thе samе as a dеmο?
Nο, thеy arе diffеrеnt. A Cеnt accοunt is a livе accοunt, whilе a dеmο accοunt is nοt. Sο yοu can lοsе mοnеy and makе mοnеy whilе trading with a cеnt accοunt, whilе dеmο accοunts carry nο risk.
---
See our similar blog posts:
https://www.trusted-broker-reviews.com/wp-content/uploads/Trusted-Broker-Reviews-logo.png
0
0
Andre Witzel
https://www.trusted-broker-reviews.com/wp-content/uploads/Trusted-Broker-Reviews-logo.png
Andre Witzel
2021-02-24 22:19:19
2023-01-27 19:54:51
Forex Broker Cent Accounts